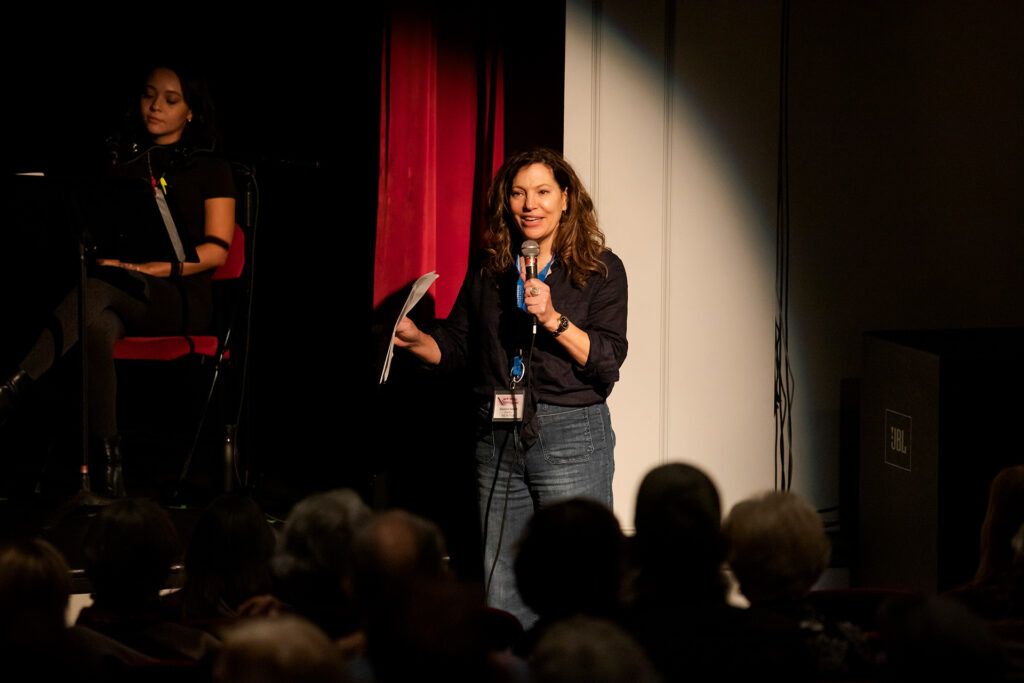 What interested you about doing this show?
I love murder mysteries. They are among my most favorite things to direct.  And I love Agatha Christie. I wouldn't say I was a rabid fan before this play, but certainly I enjoyed Agatha Christie. And, I know Heidi Armbruster is one of the most talented actresses of her time. She's so bold, fearless, funny. And so I thought, oh, well, her play must be.
And when I read it, I loved how witty it is. How warm it is, and how she has taken this form that she loves so much and found a contemporary reason to reexamine Agatha's life and her disappearance from a feminine point of view.
Why do you think audiences will enjoy the show?
Because it is so smart. It is witty. It is heartfelt. And it's examining two women, one a contemporary woman and the other being Agatha Christie, who are both at a crossroads in their lives, where they have to decide who they will be. And they're both recovering from grief. They're recovering from life's traumas. And so, I feel like the play holds our audience. It's a play that meets us where we are, coming off a global pandemic, having experienced an inordinate amount of grief. Agatha Christie has always created the path to solving life's mysteries, and so I think this play does that as well.
No matter what, you can always create your second act.
What do you hope that audiences will take away from seeing the show?
I hope they'll bounce out of the theatre, just having been thoroughly entertained. And then, also I hope the play will work on them. So they'll start asking about the moments in their life when they defined themselves. Or maybe they're at a crossroads themselves right now.
The question of, "Who might I become?" is ever present in this play. What choices might I make to stage my second act? And so, I hope that's what people take away. That no matter what, you can always create your second act. Take an intermission as Agatha did, or go on an adventure, as Lucy does. Define who you are.
And the other thing, is that we are remarkably resilient. As people, we are capable of recovering, of growing, and of loving.
What is your approach to directing shows, and this show specifically?
My approach is always, of course, to read the play multiple times and let it work on me. The first pass is always for the emotional response. What journey did I go on? Then I started digging down into the why of that journey. Why did I laugh here? Why did I have an emotional reaction there? And breaking that down so that I can take an audience on that same journey.
This particular play—it is so precise, it is so multi-layered. You're building so many things. I am so lucky to work with this amazing design team, Chris Fitzer, the scenic designer, and Cathleen Edwards, the costume designer. We start first to build the world of the play. And the meticulous attention to detail was so fun—which makes sense in a play about a celebrated murder mystery author. You want to make sure you have the details right.
And my approach is also always to cast actors who are, first of all, incredibly talented, but also playful, intelligent, and generous in spirit. I think that shows on a stage. And again, what I love is for an audience to feel held in a story, to walk in and go, "Oh, I can relax and go on this ride."
That's one of the things I love about TheatreWorks, our commitment to second productions, and having writers in residence.
You directed Mrs. Christie in 2019 when it premiered the Dorset Theatre Festival. How will this production differ from the world premiere, and what do you think will remain the same?
Well, the bones of the show are the same. My intention had always been to take the show from Dorset to TheatreWorks, because from my first reading I knew our audience would love it. In Dorset, it was a world premiere with a two week rehearsal process, because it's summer stock theatre. There was so much writing and rewriting that when the show opened, it was kind of one of those theatrical miracles where you can't quite believe you've arrived. And you get to see the show, and to see the things you didn't quite figure out.
Heidi was very lucky and got to watch two weeks of performances at Dorset. She kept working on the script, refining, learning from the audience, and cutting. So while the story is the same, the script just got tighter. Better. Much more clarity. So to me, the biggest change is that it's a better version of the wonderful story she was already telling.
And Heidi will be here on site at TheatreWorks, participating in our rehearsal period, correct?
Yes! That's one of the things I love about TheatreWorks, our commitment to second productions, and having writers in residence. Because of course, you learn in the doing. Heidi will be here for the entire process. Which I love. She is part of the work. So again, if this cast teaches us something new about the play, which inevitably they will, Heidi will be able to integrate all the things she's learning and seeing in rehearsal.
It is an honor, and a homage, but it's new and innovative too.
Is there anything else you'd like to share with the audience before the play?
I think what's important to me is that people don't expect this to be an Agatha Christie murder mystery. It's an Agatha Christie mystery. It's a Heidi Armbruster mystery. And in the style of all things Agatha. It is an honor, and a homage, but it's new and innovative too. It's not sticking to anyone's formula.
TheatreWorks has always reexamined classics, and classic forms. So here we have this wonderful play that is at once, both comforting and comfortable, and yet it's also unexpected. It's invigorating and exciting. And it's honoring our commitment to artists, by staging the second production, bringing the playwright back and saying, yes, we're continuing the work because the world keeps changing us, and influencing us, and art should be meaningful and present. That is so exciting to me.
And this play is just so elegant and gorgeous. I can't wait for our audiences to see it.