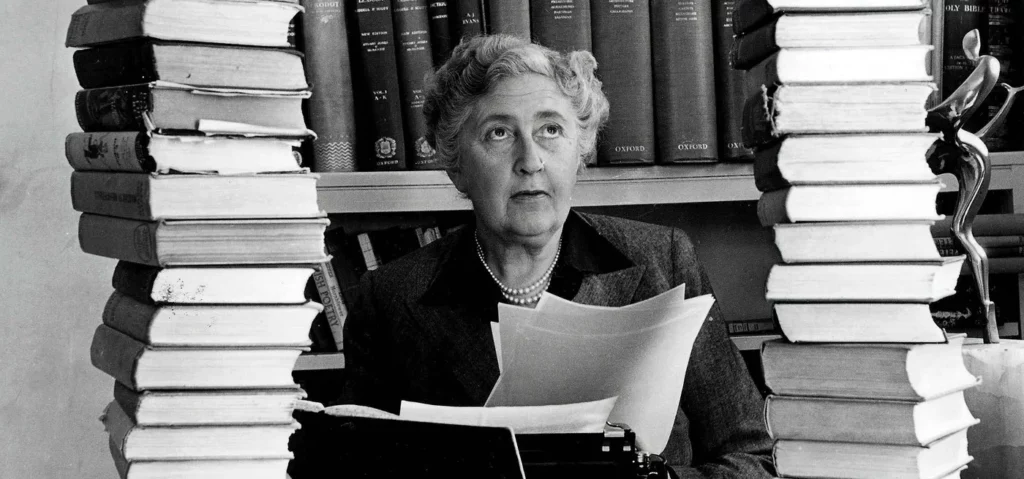 Agatha Mary Clarissa Miller was the youngest of three children, born in 1890 and raised in the seaside town of Torquay in Devon, England. A full decade younger than her siblings, Agatha spent much of her childhood deep in her own imagination, books and imaginary friends her chief companions. She was primarily educated at home, a villa called Ashfield.
Agatha's father passed away when she was just eleven. Within a year her sister, Madge, had married and moved out of house, and with her brother Monty overseas, Agatha and her mother were left to face the world together. Agatha spent some time in French boarding schools in her teens, where she embraced French culture and became quite an accomplished musician. She was uneasy in the spotlight, though, and chose not to pursue a career as a concert pianist.
In 1910 she and her mother spent the debutante season in Cairo, a popular destination for wealthy Britons at the time. Upon her return to Torquay she received and rejected multiple proposals, but eventually accepted an offer of marriage from her childhood friend, Reginald Lucy. The match was an appropriate one for a young lady of her standing, though Reggie insisted on a two-year engagement and offered Agatha his express permission to change her mind if she met someone else.
In the fall of 1912, Agatha found herself unexpectedly swept off her feet by a young military officer named Archibald Christie. She finally felt the passion and excitement she'd read about in so many romance novels, and after only a brief courtship, broke off her engagement with Reggie. Archie's acceptance to the Royal Flying Corps and the onset of World War I kept them apart for most of the next several years, but the pair did make it to the altar on Christmas Eve, 1914, while Archie was home on leave.  
With Archie away, Agatha contributed to the war effort by serving as a volunteer nurse, and later qualified to work as an apothecary's assistant. In 1916 Agatha penned The Mysterious Affair at Styles, drawing inspiration both from the Belgian soldiers she tended during the war and also the vast knowledge of poisons she'd amassed working in the dispensary. She sent it to several publishers, but the manuscript was rejected.
When the war ended in 1919, Archie got a job in London. A few months later they welcomed their first and only child, a daughter named Rosalind. That same year, Agatha received the news that The Bodley Head wanted to publish Styles after all, and offered her a 5-book contract. Even so, at that point in her life, writing continued to be more of a hobby than a vocation.
In 1922, Archie's employer sent him on a grand tour of the British empire, promoting the upcoming Empire Exhibition. Agatha accompanied him, leaving Rosalind at home with her aunt and grandmother. Archie and Agatha traveled the world together, basking in each other's company and new experiences in all corners of the globe. Agatha is said to have been the first British woman to ever surf standing up, having learned in Cape Town, South Africa.
Following the tour, the Christies bought a home outside of London, which they named Styles House after the mansion in Agatha's first novel. The home was within walking distance of the Sunningdale Golf Club, which afforded Archie ample time to engage in his favorite activity. Through it all, Agatha kept writing. She penned another half-dozen books during this period.
In 1926, Agatha's world was shattered when her mother passed away. Agatha fell into a deep depression, sequestering herself at her childhood home as she sorted through the remains of her mother's life. After months at Ashfield with only infrequent visits from her husband, Archie dealt her another blow by asking for a divorce; it seems he'd fallen in love with another woman. Agatha refused to believe her marriage was over and begged Archie for a reprieve. The divorce was temporarily postponed, but Archie made no effort to reconcile with his wife.  
Then one December evening, Agatha Christie walked out of her home and disappeared, leaving a baffling set of evidence that left police scratching their heads. Despite a national search, no one laid eyes on her again for eleven days. Incredibly, she was discovered at the Swan Hydropathic Hotel, a seaside resort in Harrogate, checked in under the surname of Archie's mistress. Agatha claimed to have lost her memory, and for the rest of her life offered no explanation for what happened. Her autobiography makes no mention at all of the incident.
The mystery surrounding her disappearance has piqued the imagination of fans and artists for nearly a century. Multiple filmmakers, novelists, and playwrights have offered possible explanations, but the only thing we'll ever really know about Agatha Christie's disappearance is that she came back a changed woman.
Post-disappearance Agatha threw herself into her work, now fully embracing writing as a full-time career. She began traveling solo, uncommon for women at the time. In 1928, her first journey on the Orient Express led her to Bagdad, where she befriended renowned archeologist Sir Charles Leonard Wooley and his wife Katherine. She was encouraged to visit them again in 1930, which proved to be life-changing. On that trip she met Max Mallowan, an archeologist 13 years her junior, and the two were instantly drawn to each other. Though it took some convincing, Agatha got over her fear of heartbreak and agreed to marry him.
Agatha Christie found love again. Her literary success grew exponentially. She traveled often, spending months out of every year on archeological digs in the Middle East, herself making great contributions to the field. Under the pen name Mary Westmacott, she found the freedom to branch out from murder mysteries and write more personal stories. In her lifetime, she wrote an incredible 66 detective novels, 14 short story collections, and 6 additional novels under her pseudonym. She also authored several plays, including The Mousetrap, which is far and away the longest-running theatrical production in history. Excepting the pandemic shutdown from March 2020-May 2021, it has been running continuously on London's West End since 1952. In 1971, she was named a Dame of the British Empire. New television and film adaptations of her work are being made all the time. Even now, Kenneth Branaugh's A Haunting in Venice is playing in cinemas worldwide, (somewhat loosely) based on Christie's Hallowe'en Party.
Despite being a household name, Agatha Christie was very private person. She turned down nearly all interview requests during her lifetime. She made public appearances when necessary, but never enjoyed being in the spotlight. Even so, nearly fifty years after her death, millions of devoted fans all over the world feel a kinship to the woman who created some of the greatest puzzles and most enduring characters in English literature.